Carrozzeria Exhibit
| | |
| --- | --- |
| "Carrozzeria" is Italian for design studio. Here you can look forward to seeing unique, appealing original cars befitting the name carrozzeria car. | |
Special Exhibit to Commemorate 50 Years of the Tokyo Motor Show
| | |
| --- | --- |
| A special event that brings together favorite old vehicles from the 1950s to 1990s. The many cars on display are the very history of the Tokyo Motor Show's first 50 years. | |
Clean Energy Vehicles Test Ride
| | |
| --- | --- |
| From fuel-cell powered vehicles that produce no CO2 to hybrid vehicles and electric vehicles, meet the cars that aim to protect the environment. Test ride in a specially built nature-filled course. | |
Festival Park
| | |
| --- | --- |
| From talk shows on a purpose-built stage truck to bike trial demonstrations on traffic safety; lots of fun events for everyone! | |
Kids Motorcycle Sports School
Geared at elementary school children, this event aims to broaden horizons through riding motorcycles. With the guidance of an instructor, kids can have fun learning about motorcycles by seeing, touching and riding them. Runs 7 days on weekends and holiday during the show period.
Co-sponsored by the Nippon Motorcycle Association(NMCA)


"GRAN TURISMO 4" Test Drive Arena
Test-drive everything from sports and racing cars to famous car of yesteryear on the "GRAN TURISMO 4" racing game for PlayStation 2.
Co-sponsored by Sony Computer Entertainment Inc.


TOMICA Corner
Fun for adults and children alike. Enter the world of miniature cars. Limited edition Tokyo Motor Show Tomica cars also on sale!
Co-sponsored by Tomy Company, Ltd (TOMICA Corner)


Children's Art Exhibit
| | |
| --- | --- |
| Five and six-year-old children at kindergartens in Chiba have been invited to submit artwork as part of the Show's community outreach programs. This program is conducted in cooperation with the Chiba City Association of Kindergartens. This is the 9th Children'fs Art Exhibit at the Tokyo Motor Show. Exhibits have been part of the Show ever since 1989 (the 28th show). This year's theme is "If I were a designer, this is the kind of car I'd build." Some 3,404 pieces of artwork from 51 kindergartens will be on display on the second floor in the North Hall of the International Exhibition Hall. (The 37th show had 3,625 works from 57 kindergartens.) | |
JAMA Information Booth
| | |
| --- | --- |
| The "JAMA Information Booth" is located on the Central Mall in International Exhibition Hall and features introductions to JAMA's safety and environment programs. A wide variety of panel displays and public information pamphlets are available. Also available are introductions to driving safety classes and general information about the Tokyo Motor Show. | |
TOKYO MOTOR SHOW QUICPay/JCB Card
JCB Co., Ltd. is sponsoring a limited edition of 10,000 "TOKYO MOTOR SHOW QUICPay/JCB Cards" that make use of its "QUICPay" non-contact IC payment service. Applications will be accepted only in September 2005. The card will make it possible to enjoy the Tokyo Motor Show "cashless." In addition to carrying electronic ticket information, it can be used to make payments at temporary restaurants, official merchandise shops and Japanese Motor Vehicles Guidebook shops throughout the Show.
The face of the card features an original design with the logo for the 39th Tokyo Motor Show included and will be an excellent memento of your visit.


Clean Energy Vehicle Classes for Elementary School Children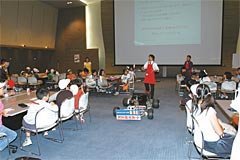 The Asahi Shimbun and Asahi Shogakusei Shimbun will provide corporation for "Clean Energy Vehicle Classes" that will help to improve school children's understanding of this important technology. Classes will be attended by children from elementary schools mainly in the Chiba area who have been invited to participate as part of the general education program (enrollment of 450 students) as well as elementary school students selected from general applicants by the Asahi Shimbun and Asahi Shogakusei Shimbun (enrollment of 420 students). They will use experiment kits in an interesting, enjoyable, easy-to-understand learning experience.