---

HIGHLIGHTS OF FORD/LINCOLN STAND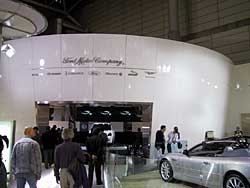 Ford Motor Company is presenting the "Trustmark Stand" at the upcoming Tokyo Motor Show. The trustmark, identified by the classic Ford Motor company script logo reflects the company's vision of establishing trust for in its brands, products, services and programs. It's a key element in positioning Ford Motor company as a world-class consumer company (a customer-oriented company) that provides automobiles and services.
The trustmark is a management philosophy consistent across all its brands and it represents the company's leadership as a corporate citizen through commitment to safety, assurance, quality of its products and care for the environment. Under this trustmark, Ford, Lincoln, Jaguar and Aston Martin are united on the same stand as brands in the Ford Group. Demonstrations bearing this Trustmark are being carried out at the Mazda and Volvo stand in other areas of the show site.
The Ford Focus, winner of the 1999 European Car of the Year Award, is attracting special attention. Ford will display the 5-door hatchback and wagon to be introduced in Japan next spring, "Focus Safety", an experimental vehicle which achieved high marks in the EURO-NAP occupant protection high level safety test, and "Focus Rally" which excels in the World Rally Championship. As production vehicles, only imported cars such as the Ford Ka. Mustang, Explorer and Mondeo will be exhibited, demonstrating Ford's new niche in the Japanese market.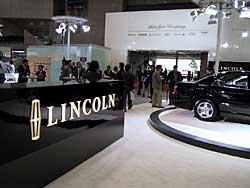 The Lincoln brand, representing American luxury, will debut its Lincoln LS, a new-generation Lincoln with unprecedented sporty handling, at this year's show. Ford also will showcase the Ford 021C and Ford FC5 concept cars.
Ford 021C, designed by Marc Newson, will make its world premiere at the Tokyo Motor Show. It was created to appeal to consumers too young to own a car. They are the "baby boomer juniors" under 21 years of age. For its development, Ford Motor Company commissioned Marc Newson, an Australian designer, to create a concept car with the values demanded by next-generation consumers.
The Ford FC5, which debuted at the Frankfurt Motor Show, is a five-seat family car powered by the forthcoming fifth-generation fuel cells. At the "Trustmark Drum," (Main Theater) where recycled auto parts and alternative fuels are displayed, visitors will see the examples of Ford's commitment to environmental preservation by its demonstration of world leadership in recycling and alternative fuels.
Since its establishment in 1903, Ford has concentrated on its historic mission of "bringing automobiles to the general public." Throughout its history, Ford has been a proven leader in advanced technology, design, safety and the environment, while turning out a steady stream of best-selling products. Now, just before the new century, Ford, with its goal of becoming the world's leading maker of automobiles and related goods, is addressing various themes to provide transportation that makes people's lives better. Visitors to the Ford Stand will see Ford's determination and successes.
---